It's possible to create malicious lobbies with improper settings
Problem:
Users are able to create lobbies with impossible settings for the given custom game. For example creating a 24 player lobby for a custom game that is maximum 10 players. Some people do this for malicious reasons, to act as a 'trap' lobby that players will be automatically placed into when they press the 'Play' button, until the lobby eventually fills up to 24 players in which the lobby will attempt to launch but fail because the custom game cannot support that amount of players. It's also possible to create lobbies with -1 max players (in attempt to increase lobby count of custom game), its possible to create public lobbies with sv_cheats 1 enabled (for hackers to abuse), it's also possible to create lobbies with penalties enabled, even if the custom game does not have penalties enabled. This is also used to create lobbies that will never fill and hence inflate the "Open Lobby" count for custom games.

Suggested solution:
Do not allow lobbies to have settings that don't make sense. Verify lobbies settings with what is acceptable for that custom game, and either deny lobby creation of lobbies with incorrect settings, or do not list lobbies which have incorrect settings so players cannot accidentally join them.
Botted and Fake lobbies intended to artificially inflate a custom game's position in list of custom games
Problem: Certain custom game developers have resorted to creating fake lobbies to artificially boost their custom game position in the list of custom games (Because custom games are ranked by the amount of open lobbies). It is common practice, and currently the top 6 custom games in the list, all have artificial lobbies to varying degrees. While the open lobby ranking is preferable to the old static top 10 list of custom games, this abuse is unfortunate.

Suggested solution: We could think of no clear and easy way to fix this problem. One step in the right direction is to delist lobbies (or remove) that have a) Incorrect configurations so that its impossible for people to join or b) Are running outdated versions of the custom game so it's also impossible to join. A solution would be for the game coordinator to periodically check the legitimacy of open lobbies, and even forcefully shut down ones that are unable to be joined, or delist them.
No option to ban players from your lobby
Problem:
Some rare, but extremely toxic and dedicated actors exist in the community - players that will continually join custom games, in some cases for years, with the sole intent of trolling and griefing the game. Hosts have no way to ban these players from their lobbies, so they have to kick them each time they host (and remember, they are currently free to immediately rejoin).

Suggested solution:
Allow players to have a personal banlist, so that when they host a lobby, players on their banlist cannot join the lobby. For ease of use the Steam block use can double up as the ingame banlist, with adding of a "Ban" option when hosts right click on a player in their lobby.
Players in parties can exceed max players of custom game
Problem: It's possible for parties of players to play a custom game beyond its maximum players. E.g. a two player party can click the "Play" button on a custom game that is only max 1 player, they will be able to join the game, the game will not work like this but it would be better if this was not possible.

Suggested solution: Fix the exploit that allows parties to exceed custom game max players.
Developers do not have access to server crash logs
Problem:
Server logs, especially crash logs are not available to developers. Valve must have them, so it's a shame we cannot access or view them, as it would greatly help with debugging and development.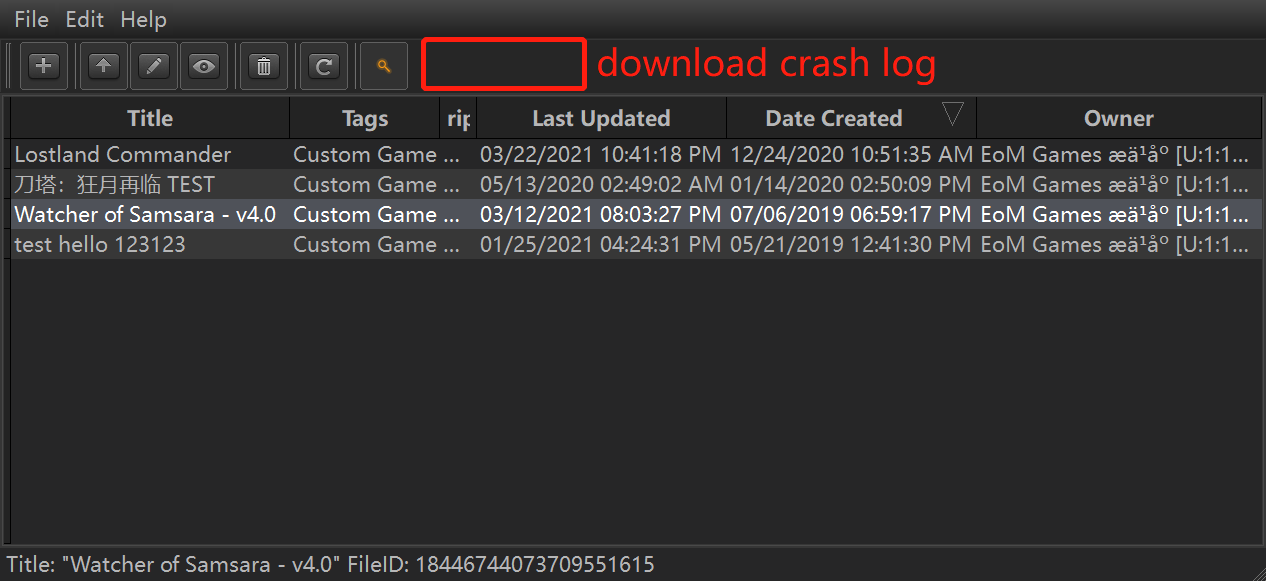 Suggested solution:
Add an option to view/download the last 10 dedicated server logs. This option could be added to the "Workshop Manager" application.